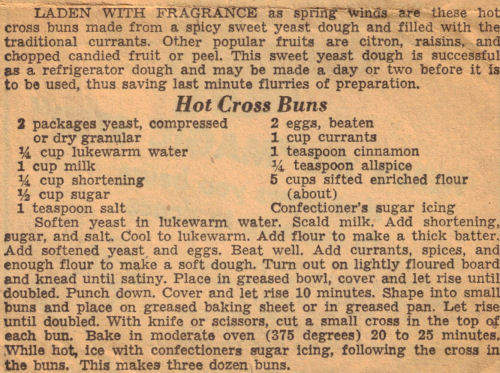 traditoneel in engelstalige landen eten ze dit zoete broodje op goede vrijdag en dankt zijn naam aan het witte kruis midden op het broodje het broodje stamt af van een veel ouder grieks broodje recept en de oude grieken hebben ook het witte kruis er opgezet
van oorsprong heeft dit broodje weining met het christelijke pasen te maken wel met de heidense voorloper ostara wat een vruchbaarheids en lente feest was in engeland is er heel veel gedoe rondom
om dit kleine broodje geweest het is zelf in de tijd van queen elizabeth 1 e in 1592 verboden geweest dit broodje zelfs te eten of te bakken dat komt omdat in oude christenlijk vasten tijd je geen brood met zuivelproduten als boter en melk mocht eten wat dat was schaars en ook een zonde er is een flinke ruzie onstaan tussen protestanten en katholieken om dit kleine broodje tot dat elizabeth zei en nu is het genoeg ik ban het broodje!
allen met kerst ( christmas) goed vrijdag of met begravenissen
mocht je dit broodje eten of bakken er werd ook echt op toegezien
dat men zich aan deze regels hielden mocht men toch deze broodjes verkopen of bakken vooral als bakker dan werden alle broodjes
die je gebakken had als bakker aan de armen gegeven en geschonken gratis en voor niks op zich wel charity natuurlijk maar je was als baker dan wel je opbrengst kwijt dus werd dit kleine broodje alleen
in familiekring gebakken en gegeten en kon men het een lange tijd niet in bakerijen of bakers winkels kopen
om het broodje hangt ook veel bijgeloof
als je deel van het broodje deelde met iemand die ziek was zou het helpen deze persoon weer beter te maken
maar het staat ook voor vriendschap als je het broodje deelt met en vriend
het versje gaat zo
if half for you and half for me between us two shall goodwill be ! ( the hot cross bun)
het broodje zou ook zeevaarders beschermen tegen gevaren op zee en schepen die vergaan
en als het broodje in je huis hangt zou beschermt het tegen vuur en aanbranden van brood
wat je maak maar je moet het broodje wel elk jaar vervangen voor nieuw broodje
bijgeloof natuurlijk maar wel erg british !